éolane Valence optimizes its productivity with the acquisition of a selective wave Ersa Versaflow 4/55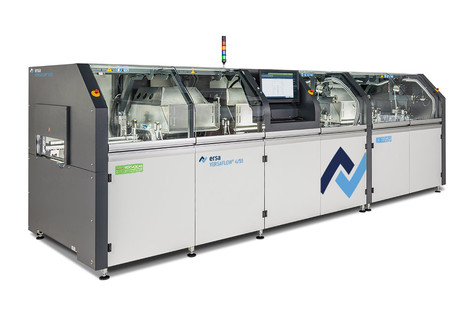 éolane is taking another step towards Industry 4.0 with the acquisition of an Ersa Versaflow 4/55 selective soldering machine at the éolane Valence site. This selective wave is a good investment and will allow an increase in productivity and a significant improvement in the quality of PCBA produced in an automated manner.
Being a true technological innovation, the Versaflow 4/55 is the first machine in France equipped with two Versaflex brazing modules (4 independent brazing pots) and having received the NPI award. Making selective soldering even more efficient, this system is ideal for meeting all customer requirements. Its precision, perfect welding quality and ability to handle multiple tasks simultaneously are simply impressive!
Equipped with a fluxing module, two preheating modules and two modules of two in-line ROHS soldering pots, this versatile and high-speed configuration aims in the long term to completely replace the traditional wave at the Valence production site and certain manual brazing operations, and thus drastically reduce the quality defects inherent in these processes. The production of PCBA will be more flexible, with higher throughput and quality. 
Highlights Selective Soldering System VERSAFLOW 4/55
High end selective soldering system to integrate into in-line manufacturing concepts
Mini-wave soldering for high flexibility or multi-wave soldering (in preparation) for high volume applications
Product change without loss in production time with the multi-wave process (in preparation)
Processable area 20″ x 20″
Soldering module Y/Z variable
Versacam for height measurement on the fly
Versaflex soldering module X/Y/Z variable
Power convection for optimal homogenous preheats
Parallel process through separation of fluxing, preheating and soldering cycle
Use of up to 4 flux spray heads
Fluxer y-variable
Flexible system configuration on account of modularity of the design
Ideal for linking to manual workstations or peripheral equipment
Secure process control with monitoring of all relevant processes
CAD-Assistant for offline programming
Link for traceability systems for process control